5 Ways Sellers Get Their Worth
5 Ways Sellers Get Their Worth
August 24 , 2023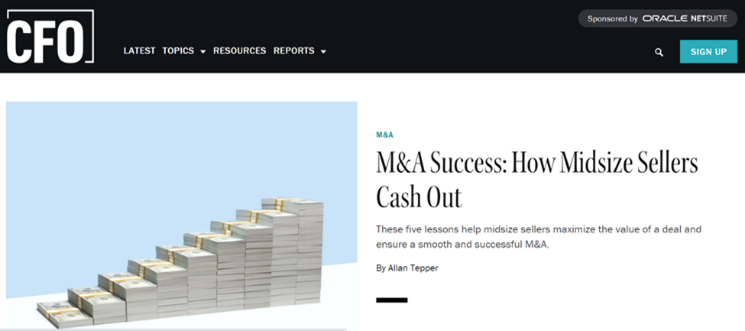 You have spent most of your life building a successful business—but now it's time to exit.
In the midsize market, unfortunately, buyers have the advantage in mergers and acquisitions. Let's face it: they tend to be serial buyers and practice tends to make perfect.
On the other hand, if you are selling your business, you'll need a little more than advice to reap the fruits of your labor.
So how do you succeed? We recently shared our thoughts and experience with CFO.com.
Learn more here.
Case Study: Privately Held FinTech Startup (Financial Services)
We recently helped a FinTech Company in financial services launch operations with Series A funding. However, the company's finances were in disarray, and the CEO was co-mingling personal and business activities.
As a result, we developed an approach to organize the company's financial process, developing data, information and accounting flows, financial models and policies and procedures that yielded a data room that answered questions from Series A investors.
Here's how we solved the company's problem.
Meet The Team
Our team of former Big 4 CFO, controllers and auditors offer senior-level experience across multiple industries, leveraging proven methodologies that deliver superior results.
So, we would like you to meet a couple of our talented team members who are leveraging their experience on your behalf.
James "Jim" McKay, CPA, MBA, is a director coordinating the firm's business development responsibilities for the Philadelphia and South Jersey areas. In addition, he supports the firm's Construction and M&A practices. He has over 25 years of senior financial management experience, with skills in budgeting, forecasting, cost control, computer conversions, acquisitions, internal controls and various financial responsibilities. More recently, as Vice President of Finance for a $65 million construction firm, he directed a staff of 10 accounting and administrative professionals, including development of annual business plans and projections, the management of all phases of corporate accounting and internal controls, and preparation of monthly management reports and financial support for the entire business. Jim also was the regional controller for the northeast region of the largest fire protection company (emphasis in inspection, maintenance and service work) in the world. To learn more about his experience and expertise, please click here.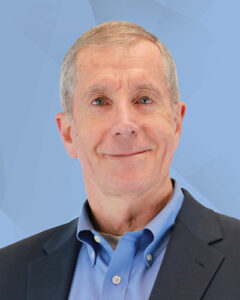 Joseph "Joe" VonEhr is a director who supports the firm's M&A Exit Planning and Transaction Advisory Services, as well as CFO Advisory in the technology, manufacturing, CPG and BPO segments. He has more than 25 years of M&A, financial and operational experience, both domestically and internationally. During his 12 years at Xerox and in earlier CFO roles, Joe had M&A responsibility for the buy-side transaction process for strategic and tactical acquisitions including target identification, valuation, full due diligence, contract negotiations and pre-integration planning, as well as, supporting sell side/divestment engagements including CIM development and TSA negotiation. Joe also has a mix of large and mid-sized company CFO experience at iconic companies such as Colgate-Palmolive, GE, Singer and Hercules Chemical where he led all traditional CFO functions including GAAP reporting, cost accounting, treasury (cash, debt, credit and FX), FP&A, IT, tax, and internal audit. To learn more about his experience and expertise, please click here.
If you need assistance with your company's growth, we are ready to help.
Contact us today!