XPX Tri-State Summit March 16: 'Soft Landing' Amid Turmoil in 2023
XPX Tri-State Summit March 16: 'Soft Landing' Amid Turmoil in 2023
March 13 , 2023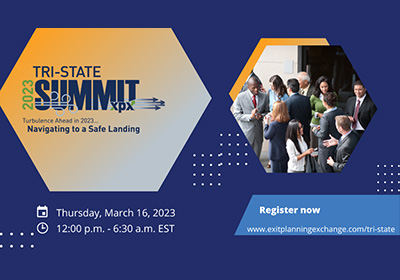 CFO Consulting Partners is a co-sponsor of the Exit Planning Exchange Tri-State Summit on March 16, and we invite you to spend a day with your colleagues.
Here's what you can expect:
• Entrepreneur Magazine Editor Jason Feifer will present "Navigating the Soft Landing," so we all learn how to prosper this year despite the macro headwinds.
• A panel discussion will be held about the New World of Work and how to respond to "The Great Resignation," "Quiet Quitting" and "Work From Home/Anywhere."
• A panel discussion will discuss the costs and risks on businesses involving environmental, social and governance (ESG).
• A fireside chat about leadership will feature Nichole Radzely, who is the founder/CEO of Doodle.
Please don't miss this the opportunity to connect with your network. Register today!