AM&AA Hosts 2023 Economic Outlook on Jan. 19
AM&AA Hosts 2023 Economic Outlook on Jan. 19
January 10 , 2023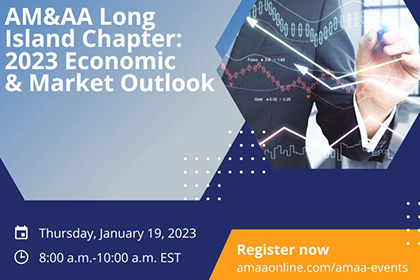 Finance challenges and macrotrends put a damper on last year.
But does history have to repeat itself—at least so soon?
Granted, the new year begins with a lot of baggage. The Consumer Price Index shot up 9.1%, the largest 12-month increase since 1981. To counter inflation, the Federal Reserve has made capital more costly, hiking the short-term federal funds rate to a range of 4.25% to 4.5%.
And COVID continues to circulate, so, how should we play 2023? Obstacle or opportunity?
At CFO Consulting Partners, we always advise our clients to take advantage of expert's perspectives.
We would like you to join us at the upcoming Alliance of Merger and Acquisition Advisors (AM&AA) 2023 Economic & Market Outlook presentation on Thursday, January 19 because we all need the latest information to make better decisions in the new year. The AM&AA Long Island Chapter will host the event from 8 a.m. to 10 a.m. at The Mansion at Oyster Day in Woodbury, New York.
Adam Gorlyn, director and senior investment strategist at City National Rochdale will discuss his thoughts on the data.