Allan Tepper Presents 'M&A Deal Killers' Jan. 26
Allan Tepper Presents 'M&A Deal Killers' Jan. 26
January 20 , 2023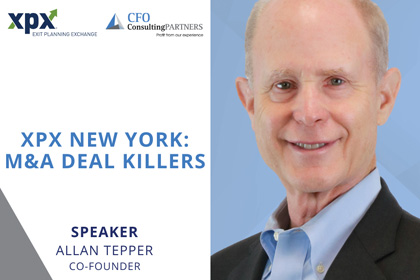 M&A deals fail at least 70% of the time.
Poor integration—from people to processes—kill value.
Our clients work with us to improve their odds for success.
Are you conducting due diligence? Are your assets compatible?
CFO Consulting Partners' Allan Tepper, CPA/MBA, will discuss key pitfalls to avoid for any merger transaction during his "M&A Deal Killers" on January 26th, 8 a.m. to 10 a.m., at RSM, which is located at 151 W. 42nd Street, 19th floor in New York City.
Allan has more than 30 years of experience in senior financial management with large and small companies and is a co-founder and managing director at CFO Consulting Partners.
He has held the top financial officer for the U.S. operations at Canadian Imperial Bank of Commerce (CIBC) for more than 10 years. He led the founding of CIBC's commercial finance company by obtaining approval to form the entity from the Federal Reserve Bank, securing a large contribution from CIBC's Canadian-based parent company.
Allan also managed the New York tri-state financial services practice for consulting firm Jefferson Wells, and he has held several senior-level M&A, planning and accounting positions at SCM Corporation, a Fortune 500 diversified manufacturing company. Since co-founding the firm in 2006, he has held interim CFO positions at public and privately owned companies.
He is the former president of the NYC chapter of the Exit Planning Exchange.